Toddler
My Toddler Won't Stop Touching His Penis. What Should I Do?
My child, Theo, is 19 months old, and he has found his penis.
I'll put Theo on the evolving table, at that point evacuate his diaper, and his hands will quickly dive to his under areas, where he will jab, push, and draw with wonderment and happiness.
His unrivaled joke in this still-new world is to take his stout right hand and, in one quick movement, hit his penis with an open palm, laughing with wild amuse.
I giggle at this, normally, on the grounds that I adore unpretentious, highbrow satire. What's more, I relate: "Indeed, child, penises are bewildering and entertaining, and simply hold up until you can pee holding up. At that point, the world will be your comedic shellfish."
In any case, that acknowledgment likewise accompanies an awareness of other's expectations. Theo's mother and I need him to grow up with a solid feeling of sexual prosperity while likewise ensuring he doesn't choose to play scrotum puppeteer at the following birthday party.
The experts, obviously, are straightforward about how we can help Theo do this. Pediatricians state self-investigation is normal. Some even name the interest as "revelation," which gives Shackleton-like greatness to my child's undertakings. (No, men, we should turn south! South, with a daring heart and an open palm!)
The American Academy of Pediatrics expresses that genital investigation typically starts around age one and is totally ordinary. So for what reason don't, I feel totally ordinary?
I call Justin Richardson, M.D., the senior partner chief of the Columbia University Center for Psychoanalytic Training and Research. He's a co-author of the book Everything You Never Wanted Your Kids to Know About Sex (But Were Afraid They'd Ask).
Dr. Richardson shoots straight.
"You feel disgrace!" he lets me know. I quickly feel dishonorable. "This is the way you were raised. You feel humiliated. You need to turn away. This is the manner by which disgrace gets transmitted from age to age."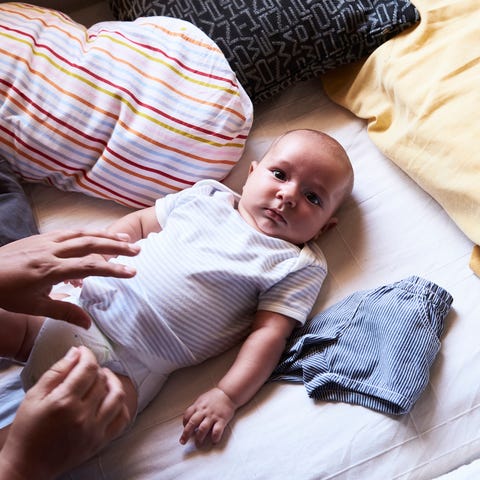 At the present time, at Theo's young age, Dr. Richardson recommends that my better half and I set up a couple basic standards.
To start with, when Theo contacts himself, we keep on connecting with, grin, and recognize his activities. "That feels better, doesn't it?" we can say. At that point, we proceed onward. No major ordeal. Close the diaper. Up off the changing table and on to the following interest. Try not to wait, yet don't disregard it.
Second, we call things what they are. My significant other and I had named Theo's penis a "pipper" and, rapidly did as well, he. Pipper, however such a great amount of enjoyable to state, isn't a penis. Any obscurity of classification ("privates," "young lady parts") can make difficulties around sound sexuality, as indicated by the AAP. Dr. Richardson prompts marking parts as "penis" and "balls" to further help Theo learn himself.